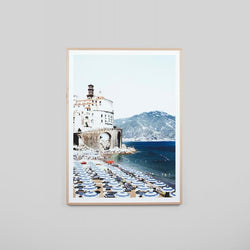 Amalfi Beach Framed Print
Make a statement in your space with this stunning photographic print featuring the Amalfi Coast. Our Amalfi Beach Framed Print adds a range of gorgeous tones to your home, as well as texture and depth. Escape to the Italian seaside on the daily with this timeless piece.

PLEASE NOTE:
All framed prints are available for PICK UP in Queensland only. Due to their fragile nature, we are currently unable to deliver them interstate. Choose to pick up from one of our Queensland based stores which is closest to you.

MATERIALS:
Timber frame, glass, engineered wood backing.

DIMENSIONS:
100 x 135 x 4 cm

Made in Australia.