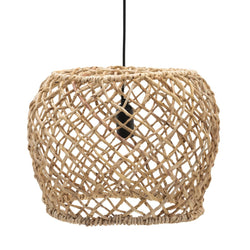 Bukumba Hanging Lamp - Small
This ultra stylish basket pendant light features a beautiful loose weave and organic shape for a coastal style statement. It provides ample texture and adds natural character to any space whether it be your kitchen, dining room, living area or bedroom. See it come to life when it is illuminated at night and fills your space with multi-dimensional light.

Available in two sizes.
Dimensions: dia. 370 x 260mm 
Material: Rattan